Directions and Local Transportation

Cairns International Airport

About 120 scheduled flights each week connect Cairns to all major Australian and international destinations. The primary airlines servicing Cairns are Qantas Airways, Australian Airlines (a new carrier with 26 flights per week from Asia), Cathay Pacific, Continental Airlines. The airport is only 15 minutes from Palm Cove and 10 minutes from Cairns. Cairns has international, domestic and general aviation terminals of the highest standards.
http://www.cairnsport.com.au/default.htm

Contacts for some of the Airline Partners who provide direct international and domestic access to the destination:

Qantas www.qantas.com.au
Australian Airlines www.australianairlines.com.au
Virgin Blue www.virginblue.com
Japan Airlines www.jal.com
Cathay Pacific www.cathaypacific.com
Singapore Airlines www.singaporeair.com
Continental Airlines www.continental.com



Local Transportation - How to reach your hotel

The Novotel Palm Cove Resort and Outrigger Beach and Spa hotels are located at Palm Cove, just 25 minutes' drive North of Cairns in Tropical Far North Queensland


The Novotel Palm Cove Resort offers airport shuttle transfers for AU$ 10 per adult and AU$ 5 per child, one way. Book your airport transfers when making your hotel reservations using the BOOKING FORM on-line

The Outrigger Beach Club and Spa offers ECC Coach transfers for AU$ 12 per person each way. Transportation to and from the airport can be arranged through the The Outrigger's reservations department. Book your airport transfers when making your hotel reservations using the BOOKING FORM on-line
The Novotel Palm Cove Resort (Coral Coast Drive) and the Outrigger Beach and Spa (Williams Esplanade) are located in Palm Cove, 8 minutes' walking distance from each other (see map)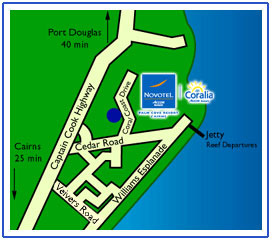 Rental Cars

All major Australian rental car companies such as



have offices at Cairns airport. It is recommended that advance reservations be made. Most can be booked from abroad to suit most inbound flights. You may need an International Driving License.

Public Transportation to Cairns
Cairns has a public bus system servicing the city, suburbs and beaches. Timetables are available from depots and at hotels. See www.sunbus.com.au .
Monday to Friday: buses every 30 minutes, before 6.00pm; every 60 minutes after 6.00pm
Weekend: buses every 30 minutes every 60 minutes

Taxis
Taxis are readily available 24/7 from ranks and telephone bookings. Taxi costs about AU$ 55 from airport to Palm Cove.